Fashion Tips by SW ONE Couture Experts
At SW ONE Fashion we encourage styles from all over the world however, adopting modest fashion seems to be the perfect choice for the coming month.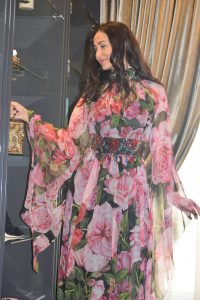 Dolce&Gabbana SS17
In honor of our heritage and the upcoming holy month of Ramadan, we would like to introduce to you the latest Arabian Collection from Dolce&Gabbana.
We call it "The Flower Power". With floral prints, you must keep your accessories solid, no mixing of other prints in order for your gown to give that outstanding spark when you make an appearance!
Alexander McQueen SS17 Poppy Embroidered Tulle Long Gown
Embroideries are the second best Summer hit specially when they are hand-made such as this tulle embroidered alluring McQueen gown.
With embroideries you can mix and match depending on the colors available and there is no limit to being colorful and eye catchy. Not to mention, corsets are back in style and this gown just happens to have an internal one!